Premature death of a popular singer in his prime
creation

show by Arthur H and Wajdi Mouawad
from 13 November to 29 December 2019 - Main Theater
from Wednesday to Saturday at 8:30 pm on Tuesday 7:30 pm and Sunday at 3:30 except Tuesday 24 and Wednesday 25 December
Thus it looks like a space shuttle trying to reach the moon: a single degree of error at launch would cause it to pass thousands of kilometres from its destination and here it is thrown into the sidereal darkness towards the most improbable fate. If this is true of ships, it is also true of dreams and ideas, of men and their existence.
Wajdi Mouawad
Archibald is a popular singer in his late 40's. He enjoys both the appreciation of the public and respect from the music industry. He also benefits from visibility in most official medias. But just a little less than he used to. He thus, is a singer, on the verge of bitterness, struggling not to give in. When reflecting on his long career, the idea of a celebration sometimes crosses his mind, but his ex-manager has a better idea.  
Born from the minds of singer Arthur H and playwright Wajdi Mouawad, this tale is one of anguish: how can we free ourselves from this gaze of the world which determines even if it means seeing everything fall apart? Necessarily, this play will be written as a tragicomedy, as inescapably any misadventure undergone by an artist contains a highly comical element.
artistic team
a show by Arthur H et Wajdi Mouawad
with Marie‑Josée Bastien, Gilles David, Arthur Higelin, Isabelle Lafon, Jocelyn Lagarrigue, Patrick Le Mauff, Sara Llorca
Staging assistant Valérie Nègre
dramaturg Charlotte Farcet
music Arthur H
artistic advisor François Ismert
scenography Emmanuel Clolus
lighting Éric Champoux
costumes Emmanuelle Thomas
hair and make-up Cécile Kretschmar
sound designer Michel Maurer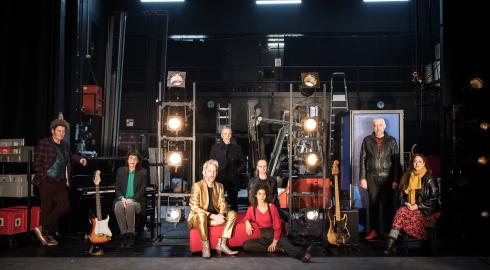 Photo © Sebastiao Salgado - Enterrement à Attilio, Chimborazo, Equateur, 1982
see all the pictures
production
La Colline - théâtre national
accessibilité
représentations audiodécrites
Le spectacle Mort prématurée d'un chanteur populaire dans la force de l'âge est proposé en audiodescription en partenariat avec le CRTH – diffusée en direct par casque – accompagnée d'un programme en braille et en caractères agrandis le mardi 3 décembre à 19h30 et le dimanche 8 décembre à 15h30.
Plus d'informations auprès de Johanne Peyres
Rhizome - podcasts de La Colline
Rhizome de l'automne
Chaque saison, les membres d'une équipe artistique nous racontent l'aventure collective que représente la création d'un spectacle. Anecdotes, inspirations, hésitations, ils parlent librement de la façon dont ils s'approprient leur partition au fil des répétitions. Ce cycle de podcasts débute cet automne avec l'équipe de création du spectacle Mort prématurée d'un chanteur populaire dans la force de l'âge.
discover

Alexandra Badea
7 November — 1 December
2019
more information

Emma Dante
11 December — 22 December
2019
more information

Nasser Djemaï
9 January — 22 January
2020
more information