Una costilla sobre la mesa : Madre

text, direction, scenography, costumes and performance by Angélica Liddell
from 18 January to 9 February 2020 - Main Théâtre
On Saturdays 8.30pm and on Sundays at 3.30pm
duration 1h30
performances in Spanish with French surtitles
suitable from 16 years old
presented alternately with Una costilla sobre la mesa : Padre
After The Scarlet Letter, performed in 2019 at La Colline, Spanish artist Angelica Liddell chose the form of Direct Address to address the intimate theme of parentage. A tribute to her recently deceased mother.
The author-director feeds from philosophical resources and brings together actors, amateurs, visually impaired performers and children along with an acapella vocalist Nino de Elche and close collaborator : dancer, Ichiro Sugae.
artistic team
text, direction, scenography, costumes and performance by Angélica Liddell
performed by Angélica Liddell, Gumersindo Puche, Niño de Elche, Ichiro Sugae
stage assistant Borja López
lighting Jean Huleu
sound and video design Antonio Navarro
logistic Saité Ye
communication Génica Montalbano
production Gumersindo Puche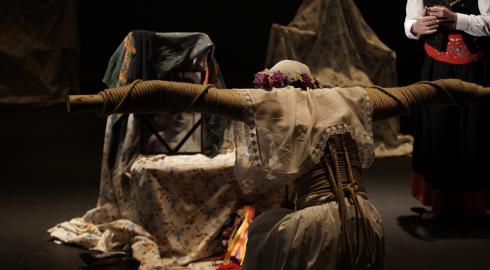 Photo © Susana Paiva et © Luc A Del Pia
see all the pictures
coproduction
IAQUINANDI S.L., Théâtre Vidy-Lausanne, Festival Temporada Alta et Teatros del Canal (Madrid)
Café philosophique
animé par Jade Bourdeaux, Blandine de Marsac et Samir Legrand de l'association étudiante
interuniversitaire Opium Philosophie
samedi 25 janvier à 17h - entrée libre
À partir des questions philosophiques soulevées par le spectacle Padre d'Angélica Liddell, les étudiants animeront une discussion avec le public. Ce nouveau rendez-vous à La Colline est l'occasion de faire un usage concret de la philosophie et de faire valoir la richesse de l'interdisciplinarité.
en savoir plus
Les Jeunes Reporters de La Colline
Pour la quatrième année, 20 jeunes entre 16 et 25 ans rejoignent l'équipe des Jeunes Reporters. De septembre à juin, ils sont impliqués dans la vie quotidienne du théâtre, auprès des équipes artistiques et des publics. Ils rencontreront les artistes du spectacle Padre vendredi 17 janvier à l'issue de la représentation.
Laboratoire avec Borja López
dans le cadre du projet Territoire et transmission : une année de théâtre de Belleville
aux portes du XXe
Territoire et transmission réunit des acteurs qui vivent sur le territoire du XXe arrondissement
de Paris et qui ont en commun de soutenir la jeunesse à travers la pratique du théâtre. Dans le cadre de ce projet, un groupe de jeunes de 18 à 25 ans accompagné par l'association Plus Loin découvrent tout au long de l'année la programmation de La Colline et expérimente la démarche artistique des auteurs programmés. Les jeunes travailleront avec Borja López tout au long du week-end des 21 et 22 février 2020.
discover

Frédéric Fisbach
29 September — 25 October
2020
more information

Pascal Rambert - Arthur Nauzyciel
30 September — 18 October
2020
more information

Simon Falguières
10 November — 4 December
2020
more information